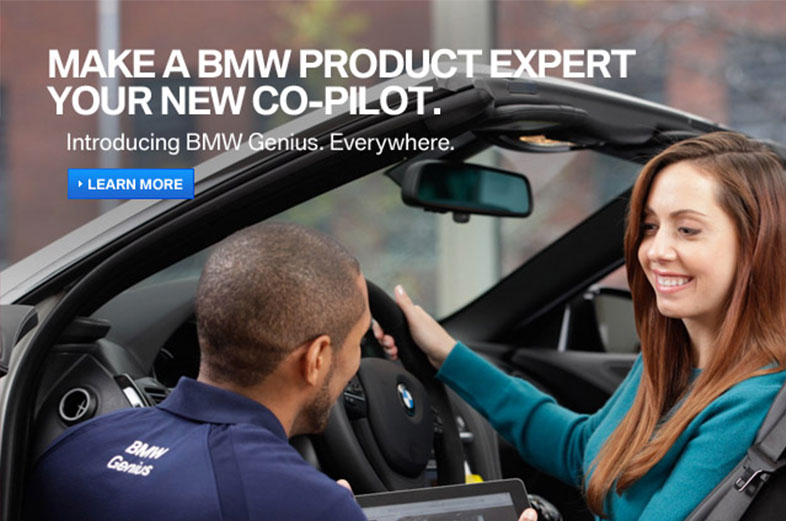 LEARN MORE ABOUT THE BMW GENIUS PROGRAM
We'd like to take the time to congratulate you on your new BMW purchase! Here at Athens BMW located in Athens, GA, we know you will enjoy all of the state-of-the-art features your new vehicle has to offer. To help you enjoy your BMW even more, a team of BMW Geniuses is available to provide you with essential product information and answer your questions wherever you are. You will be able to do this at our BMW dealership, via your smartphone or tablet, or by giving the BMW Genius Hotline a call.
The BMW Genius Program
Here at Athens BMW, you'll now find our product expert. We will do our very best to assist you in finding the perfect vehicle to suit both your lifestyle and needs. Our BMW Genius, Scott, is specifically trained to demonstrate and help you get familiar with all aspects of your BMW - before, during, and even after your vehicle purchase.

Don't have time to stop by our dealership today? That's not a problem. The BMW Genius App is a new way to learn about your BMW on your smartphone or tablet. The app provides you with how-to videos about important features and functionalities, as well as model specific product information. Think of it this way: the better you know your BMW, the more you can enjoy the benefits of BMW's class-leading innovations. How's that for peace of mind?

Prefer to speak with a specialist over the phone? If so, please feel free to give the BMW Genius Hotline a call. You will talk to a dedicated team of professionals who are available to help answer all of your product related questions. For your convenience, you can save this number in your vehicle. If you aren't sure how to do this, please call Scott Cassidy at (706) 549-5340 . Our team would be more than happy to guide you through this process.
Visit Athens BMW Today | We Proudly Serve Athens And Gainesville, GA
Once again, we'd like to take this time to congratulate you on the purchase of your vehicle. Your new BMW is loaded with remarkable features and functions. After you've had the chance to familiarize yourself with many of them, we encourage you to contact Athens BMW to set up your complimentary BMW Encore appointment. Please take a moment to fill out our contact form to set up your appointment, or you can give Scott Cassidy a call at (706) 549-5340. This reservation will be an exclusive session scheduled at a time that works for you, dedicated to answering all of your questions and concerns about your new BMW. On top of that, we will top off your tank with up to $50 worth of fuel! We look forward to seeing you soon.
Sales Hours
706-480-4349
| | |
| --- | --- |
| Monday | 9:00 am - 6:30 pm |
| Tuesday | 9:00 am - 6:30 pm |
| Wednesday | 9:00 am - 6:30 pm |
| Thursday | 9:00 am - 6:30 pm |
| Friday | 9:00 am - 6:30 pm |
| Saturday | 9:00 am - 5:30 pm |
| Sunday | Closed |
Detail Hours
| | |
| --- | --- |
| Monday | 7:00 am - 6:00 pm |
| Tuesday | 7:00 am - 6:00 pm |
| Wednesday | 7:00 am - 6:00 pm |
| Thursday | 7:00 am - 6:00 pm |
| Friday | 7:00 am - 6:00 pm |
| Saturday | 8:00 am - 6:00 pm |
| Sunday | Closed |
Service Hours
706-410-1359
| | |
| --- | --- |
| Monday | 7:00 am - 6:00 pm |
| Tuesday | 7:00 am - 6:00 pm |
| Wednesday | 7:00 am - 6:00 pm |
| Thursday | 7:00 am - 6:00 pm |
| Friday | 7:00 am - 6:00 pm |
| Saturday | 8:00 am - 3:00 pm |
| Sunday | Closed |
Parts Hours
706-410-2665
| | |
| --- | --- |
| Monday | 7:00 am - 6:00 pm |
| Tuesday | 7:00 am - 6:00 pm |
| Wednesday | 7:00 am - 6:00 pm |
| Thursday | 7:00 am - 6:00 pm |
| Friday | 7:00 am - 6:00 pm |
| Saturday | 8:00 am - 3:00 pm |
| Sunday | Closed |